Bumbino Holiday Promotion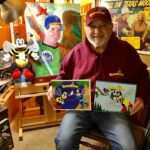 Bumbino takes flight for the holiday season. Treat your children to two heartwarming adventures with Bumbino and his delightful friends.
Look for the Bumbino series coming during the holiday season!
Books are $16.95 each regularly.
Bumbino Holiday Promotion
$25.00 for 2 Books, that's $12.50 each! (+tax and shipping)
Book number 3 in the series is in the works!